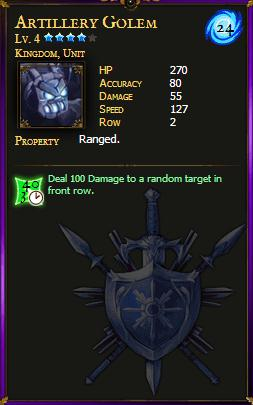 Card/Unit Stats
Edit
Rarity: Epic
Faction: Avalon
Unit Type: Unit
Casting Cost:  24

Off-Faction Casting cost: 29

HP: 270
Accuracy: 80
Damage: 55
Speed: 127
Row: 2
Properties: Ranged
Special: Smite

Recharge time: 3 rounds
Action point Cost: 40
Effect: Deal 100 damage to a random target in the front row.
As this unit is the slowest unit in the game, it's probably best to have it not go battling in a solitary manner. Like the Mountain Wyrm's Break the Line special, Smite will target the second row if no row 1 units are present.