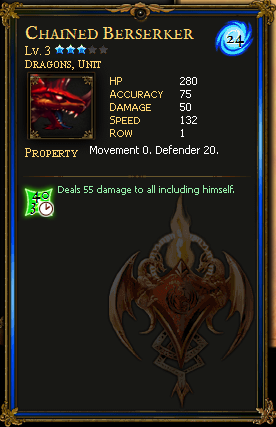 Card/Unit Stats
Edit
Rarity: Rare
Faction: Flameborn
Unit Type: Unit
Casting Cost: 24

Off-Faction Casting cost: 29

HP: 280
Accuracy: 75
Damage: 50
Speed: 132
Row: 1
Properties: Movement 0, Defender 20.
Special Attack: Berserk

Recharge time:  3 rounds
Action point Cost: 40
Effect: Deals 55 damage to each unit, himself and all allies included.
Although a very strong hitter, he's incredibly slow and not very valuable in most battles. His special is of questionable wisdom to use 80% of the time, and really more in the Hellspawn vein of spells. That being said, Defender 20 and 280 HP makes this unit the ideal watchdog on a portal, and at a relatively low cost, so it's still to be considered--especially in maps with limited mobility.