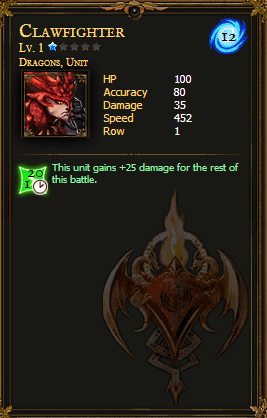 Card/Unit Stats
Edit
Rarity: Common
Faction: Flameborn
Unit Type: Unit
Casting Cost: 12

Off-Faction Casting cost: 16

HP: 100
Accuracy: 80
Damage: 35
Speed: 452
Row: 1
Properties: none
Special: Hone

Recharge time: 1 round
Action point Cost: 20
Effect: This unit gains +25 damage for the remainder of this battle.
Although Clawfighter can hit quite hard, he is also quite vulnerable in battle, and often the first target auto-targeted by the computer. In battle, use him while you can; he's likely to die quickly.