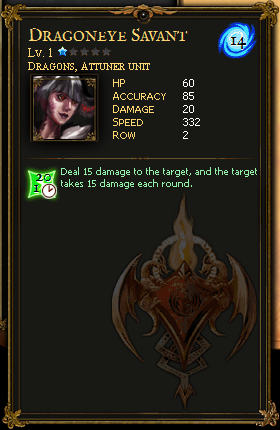 Card/Unit Stats
Edit
Rarity: Common
Faction: Flameborn
Unit Type: Attuner
Casting Cost: 14

Off-Faction Casting cost: 18

HP: 60
Accuracy: 85
Damage: 20
Speed: 332
Row: 2
Properties: none
Special Attack: Bleed

Recharge time: 1 rounds
Action point Cost: 20
Effect: Deal 15 damage to the target, and the target takes 15 damage each round.
If Dragoneye Savant is killed, her special no longer effects the target for further rounds. If she is killed after her special takes effect for that round, the damage is not negated for that round. This lasts only for the duration of THIS battle.