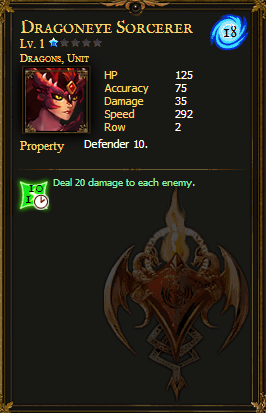 Card/Unit Stats
Edit
Rarity: Common
Faction: Flameborn
Unit Type: Unit
Casting Cost: 18

Off-Faction Casting cost: 22

HP: 125
Accuracy: 75
Damage: 35
Speed: 292
Row: 2
Properties: Defender 10
Special Attack: Mass Smite

Recharge time:  1 round
Action point Cost: 10
Effect: Deal 20 damage to each enemy.
Highly effective in a defensive battle, and fairly quick, Dragoneye Sorcerer is in the second row so she is likely to survive to the second round to be able to put her special attack to use. It's very effective for an affordable cost.