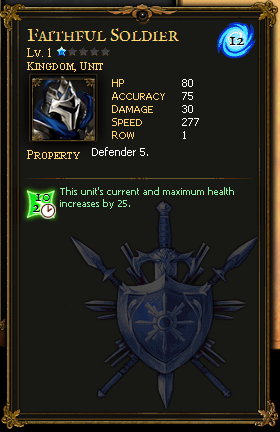 Card/Unit Stats
Edit
Rarity: Common
Faction: Avalon
Unit Type: Unit
Casting Cost: 12 Mana

Off-Faction Casting cost: 16

HP: 80
Accuracy: 75
Damage: 30
Speed: 227
Row: 1
Properties: Defender 5.
Special: Strength

Recharge time: 2 rounds
Action point Cost: 10
Effect: This unit's current and maximum health increases by 25.
Try not to get too friendly with the special button. While Faithful soldier is healing, he does not attack, and being a front row unit, he is vulnerable at all times during battle.