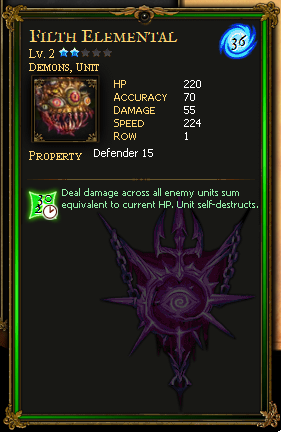 Card/Unit Stats
Edit
Rarity: Uncommon
Faction: Hellspawn
Unit Type: Unit
Casting Cost: 36 Mana

Off-Faction Casting cost: 44

HP: 220
Accuracy: 70
Damage: 55 [70 if defending]
Speed: 224
Row: 1
Properties: Defender 15
Special Attack: Self-Destruct

Recharge time: 2 rounds
Action point Cost: 30
Effect: unit dies, deals equal damage to all enemies that adds up to unit's HP at the time of casting.
Special attack 1: Self Destruct: When the damage is divided among the enemies, it will be rounded down. EG: If Filth elemental has 13 HP remaining and there are 4 enemies, each enemy will take 3 damage. Filth elemental will not deal fractions of points of damage, and will not deal different points of damage among differing enemies.