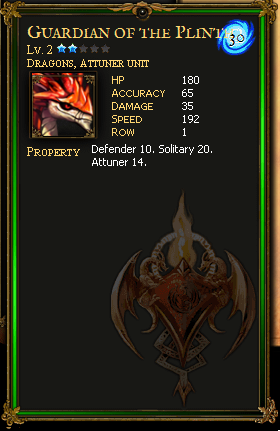 Card/Unit Stats
Edit
Rarity: Uncommon
Faction: Flameborn
Unit Type: Attuner
Casting Cost: 30

Off-Faction Casting cost: 37

HP: 180
Accuracy: 65
Damage: 35
Speed: 192
Row: 1
Properties: Defender 10, Solitary 20, Attuner 14.
This Attuner is far from fragile, but the cost may still be too steep for something so slow. It is still unkown if its Attuner property functions properly, or has a function at all.