Card/Unit Stats
Edit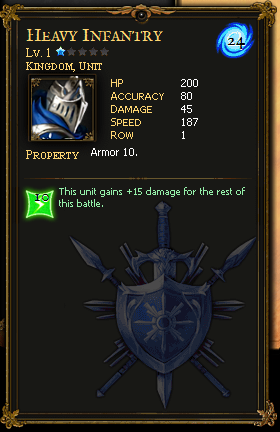 Rarity: Common

Faction: Avalon
Unit Type: Unit
Casting Cost: 24

Off-Faction Casting cost: 29

HP: 200
Accuracy: 80
Damage: 45
Speed: 187
Row: 1
Properties: Armour 10.
Special Attack: Hone

Recharge time: 0 rounds
Action point Cost: 10
Effect: This unit gains +15 damage for the rest of this battle.

Although an additional 15 damage per attack is nice, only use Hone if you're sure that the battle will take a while, and that Heavy Infantry will survive long enough to put it to better use.