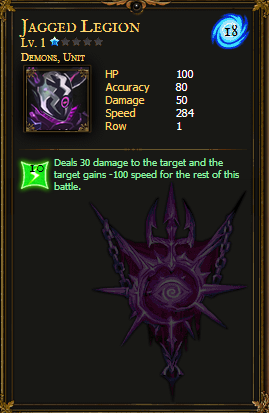 Card/Unit Stats
Edit
Faction: Hellspawn.
Unit type: Unit.
Casting Cost: 18 mana

Off-Faction casting cost: 22

HP: 100
Accuracy 80
Damage: 50
Speed 284
Row: 1
Properties: none
Special Attack: Head Concussion.

Recharge: 0 turns.
Action Point Cost: 10
Deals 30 Damage and -100 speed (battle duration) to the target.
Head Concussion can be used every round of combat, but it does trade off of the Jagged Legion's decent basic attack. Mostly recommended to use to bring an enemies speed down or score some guaranteed damage.