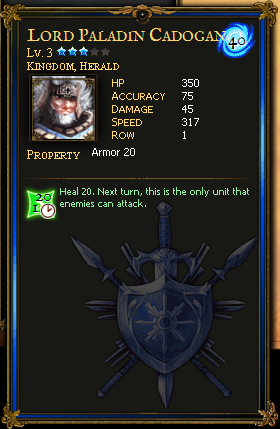 His imposing profile lets Cadogan draw fire to himself, protecting weaker fighters.
Card/Unit Stats
Edit
Rarity: Rare
Faction: Avalon
Unit Type: Herald
Casting Cost: 40

Off-Faction Casting cost: 49

HP: 350
Accuracy: 75
Damage: 45
Speed: 317
Row: 1
Properties: Armour 20
Special Attack: Stubborn Taunt.

Recharge time: 1 round
Action point Cost: 20
Effect: This unit heals 20 HP. Next turn, this is the only unit that may be targeted by an enemy's basic attack. An enemy's special attack does not seem to have changed targeting.